June 2011 Artisan Jewelers Guild Members Gallery
Members of the Guild have been invited to submit a piece of jewelry to be displayed in a monthly gallery. For June 2011, two members submitted pieces for display.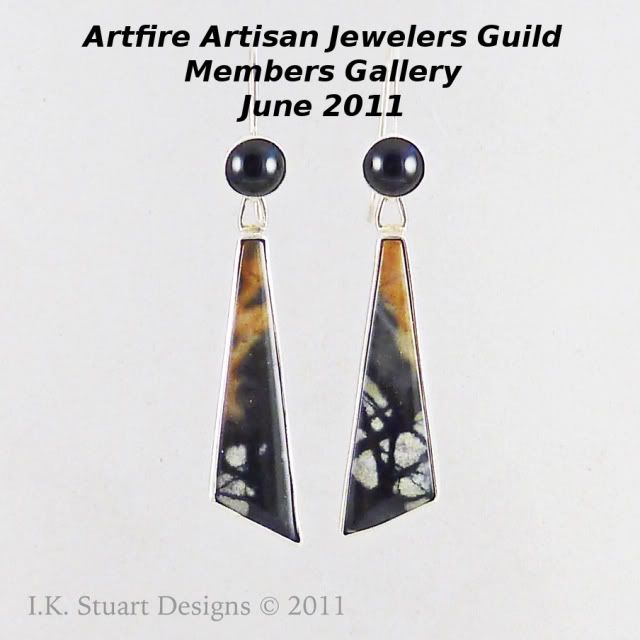 I began making jewelry 6 years ago after purchasing an expensive pair of earrings labeled "hypoallergenic" and "sterling silver" that were anything but. I have a serious allergy to nickel so I'm very conscious of the metals I wear. This wasn't my first experience with falsely labeled earrings so I was pretty aggravated. I've been making things with my hands since I was a kid, so I decided to make my own earrings. After awhile I needed necklaces and bracelets to go with the earrings so I got into beading. Then I wanted earrings that were a little fancier so I learned some wireworking techniques, and from there into making chainmaille. Then I discovered metal working -- which is my real love. The ladies at work liked my jewelry and wanted some of my designs, and a business took form.
Every piece I make is hand fabricated from only the finest materials - sterling, argentium or fine silver - with beautiful cabochons and gemstones. You will never find nickel in any of my work. My style runs from office conservative, to weekend kick-around, to pieces that make more of a statement. If you see something you like but would love to own it in a different color or with a little more of this, or a little less of that, please email me and let's design something just for you.
I have had a passion for rocks and rockhounding since I was a small child. I followed this into my education and was a geology major in college. Graduate Geologist for the past 40 years (BS and MS from Rensselaer Polytechnic Institute, Troy, NY.) This passion led my wife to start me on my journey into gemology and jewelry design and manufacture. She bought a parcel of gemstones and brought them to me and said "You're the geologist, what are these?" That started my journey into gemology. I am a current student for Professional Gemologist (International Gem Society). I have completed the theory examination and need to complete the practical examination. Then I started doing lapidary and cutting my own stones. This led me to join Western South Carolina Gem and Mineral Society.I furthered my education with classes and became certified as an Accredited Jewelry Professional (2009) (GIA), and Jewelry Design and Repair Certificate, Penn Foster Career School (2010). I am continuing my love for gemstones by making unique pieces at my bench and offering them to the public. Most of my work is custom pieces for individual customers.