Several people have asked over time to see what I start with and then what has been produced. While Debbie and I were in Helen, we went gem mining. One of the rough stones we found was a piece of amazonite (feldspar). I decided to make a cabochon (18x13 mm oval) that would fit a cabochon head that I already had in stock (purchased from Tripps).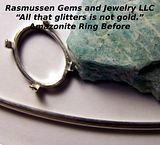 In this thumbnail (click to see larger image) are the amazonite rough stone, the purchased head to mount the stone after making the ring and cutting the stone and a section of 8 gauge half round half hard Sterling Silver wire. These items are made into a ring size 7. I took the wire, wrapped it around a ring mandrel and sawed the wire to be size 7, then marked the width of the head and opened the wire to match that size and ground the wire ends to match the angle of the head. Meanwhile, yesterday, I went to our gem society workshop and cut the cabochon. Combining everything meant soldering the wire to the head, pickling this and then polishing the ring without the stone in it. I do this by hand (no tumbler in my shop). Then the amazonite cabochon was mounted in the head and the ring is completed.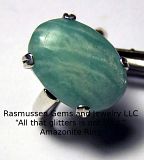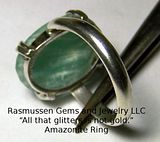 That is the story of how I make a ring.
John